We Learn our Faith with Choice Curricula:




The following publishers are student/teacher friendly. Subjects that influence your children's faith offer Catholicity. Secular curricula is appropriate and offers a gentle approach, yet teaches concepts using visual, auditory and kinesthetic methods. The curricula we use is written by experts in their field. After teaching from many providers, I feel confident in our curricula library.




Faith Formation ~

Our family learns our faith through several mediums and by frequenting Mass and sacraments often.. The three types of books that we read often, include various Children's Bibles, The Baltimore Catechism and Ignatius Press faith formation.
The Catholic Children's Bible by Regina Press is read most often by middle school children, as the readings are similar in length and translation to adult versions. The illustrations are rich and attractive and content is approved by the Church. The Action Bible by Sergio Cariello is a fun, interactive Bible that makes Bible characters superheroes! The content is thorough and this Bible is stunning with its rich, bold colors. Your children will be captured by the Marvel-like pictures from God's creations to Jesus' rising. Finally, if your children are sensitive to the bold images of Action Bible, The Picture Bible contains gentle, mild illustrations using the same theme. We are blessed to own these three Bibles and I recommend them all:
When our family began learning with

Catholic Heritage Curricula

,

I gained an academically and spiritually sound textbook library that met our family's needs. Many of the CHC books are excellent choices for classrooms, too.
As a former school teacher I value lesson plans, to be certain that my students reach educational standards.

CHC provides weekly lesson plans for every grade. From emergent readers to high school, CHC provides beautiful, informative, fully Catholic and affordable curricula.
Catholic Heritage Curricula's philosophy is, "Homeschooling should be a joyful, natural offshoot of parenting and family life, not a "weight" to be dragged along the path throughout childhood!" CHC books in our home school has made it possible for us to live that philosophy.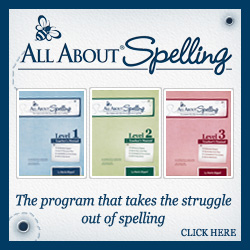 Spelling is important for intelligently communicating in writing.. Like many emergent spellers, my children do not always hear the correct sound (phonogram) for correct spelling. Did you know that there are phonics rules that you were not taught in elementary school? It is important to learn these rules taught in All About Spelling.
Marie Rippel, author of All About Spelling, has created a perfect method of teaching spelling. Visual, kinesthetic (touch), and auditory styles of learning are implemented. All About Spelling utilizes precise lessons, so instructors explain the rules of spelling in a child friendly manner. Students use flash cards, letter tiles, and a filing system for sounds, letters, rules, and words. Ms. Ripple teaches an interesting rule for every English word we learn, unless the word breaks the rule. That word "goes to jail!"
This phonics program has finally created correct spelling in my children's writing.
Math-U-See is the math program our family unanimously agrees upon. Author and founder, Steve Demme, implements three key components in his program: 1) Instructional videos and manuals for teacher and students.
2) Manipulatives such as blocks and fraction overlays for hands-on learning.
3) Student text with practice, review, and real life applications.
Math-U-See offers a unique approach to teaching math. Rather than teaching several math concepts in each grade level, Math-U-See encourages mastery of one concept (and review of earlier concepts) in thirty lessons. For example, students master fractions in about one school year, before they study decimals. Each lesson utilizes a four step approach: 1) Prepare for lessons using video and written instruction. 2) Presentation of the new concept using the DVD, manipulatives, written examples, and discussion. 3) Practice for mastery using student text and Math-U-See web site resources. 4) Progression after mastery with written evaluations, and students teaching the "material back to you."
My twelve year old using his decimal manipulatives to "slide the decimal over and divide."
Handwriting Without Tears
With the advancement of computer writing programs, the importance of tidy printing and cursive has disappeared from our society. Handwritng is still thriving in our home school and it hasn't left private school classrooms either. Consider three important aspects of learning handwriting:
Computer writing programs fix our spelling until we become lazy about learning spelling; or the word processing fixes our words incorrectly. Assigning writing lessons with pencil in hand has its place in schools. Teachers and students need to communicate neatly in these writing lessons. Young children who have not learned to use a keyboard will require pencil and paper for years to come, and they need to communicate clearly.
The art of neat printing and cursive should be appreciated. Several artistic children with steady hands have a special talent in printing and cursive that should be praised and encouraged by the adults in their lives.
How often do we receive handwritten letters in the mail? Rarely. But when we open these lovely letters, they are special gifts we treasure because they display effort and care.
Handwriting Without Tears
is a unique handwriting program that understands these important reasons for continuing handwriting lessons.
Careful research that presents letter printing in an organized order, tricks and fun descriptions for handwriting each letter, and kinesthetic, auditory and visual clues for tall and short letters are just a few of the treasures Handwriting Without Tears offers
. Your children will not dread handwriting when asked to take out their handwriting. You may even hear them reapeating what my children say, "Mom, which one is my best letter?" as they circle my favorite.
* I am not receiving income for mentioning curricula on this page. I will disclose compensation for endorsement if/when that occasion rises.